TomTomWatch
TomTomWatch is a Java application for downloading content from the TomTom GPS watches. I created it because I do not want to use the TomTom cloud for maintaining my tracks.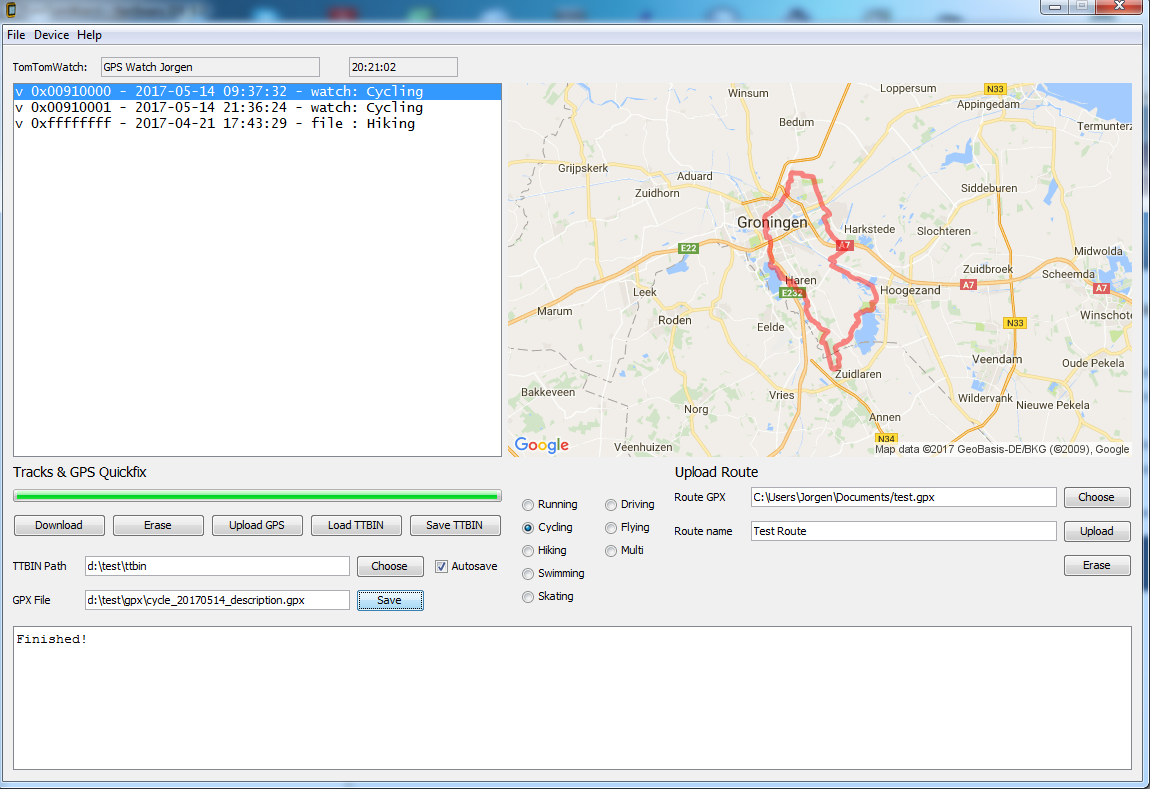 The software downloads the track files (ttbin files) from the watch. By default the ttbin files are automatically saved in a similar directory structure as TomTom MySports. It is possible to export the tracks to GPX 1.1 format. Since version 0.2 it is possible to upload track planning (routes) from GPX (route must be present as route <rte> or track <trk>).
I miss the function on the TomTom Watch to log waypoints. A special feature of TomTomWatch is the logging of Waypoints when saving to GPX: when during your workout or trip you pause track logging and resume within 5 seconds (default), the GPX converter treats it as the logging of a Waypoint. If the pause is longer, the GPX converter treats it as the start of a new track segment.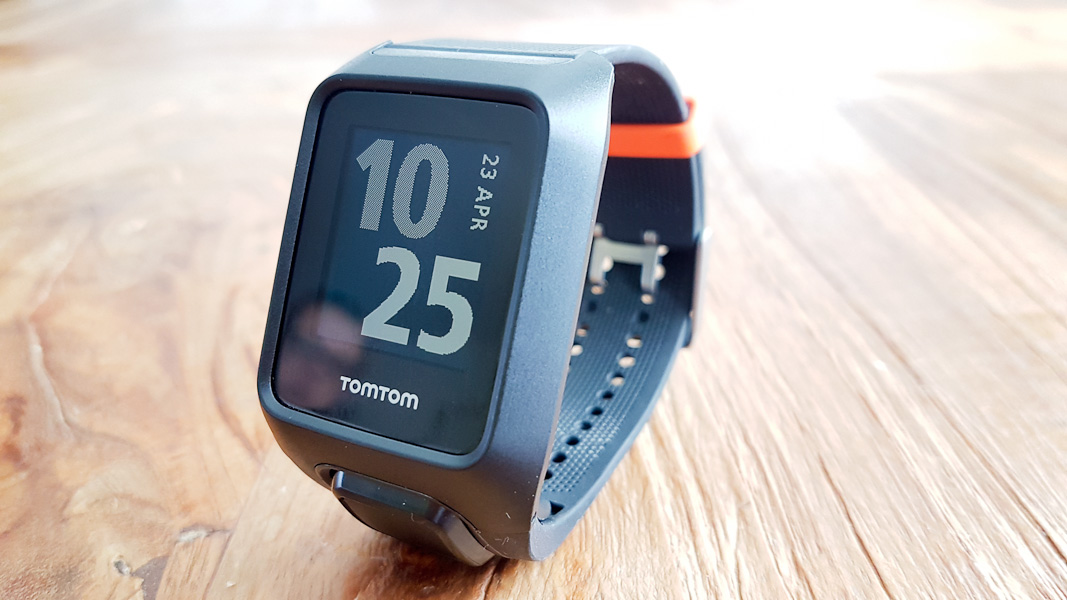 Download
Source is available on GitHub.
Release notes
Version 1.1 (Under Construction)
Version 1.0 
Technical functions in debug menu. By default not shown. Enable from properties file.
Firmware updating added (UNTESTED!!!)
Simulation mode in which the software runs on the downloaded watch data (debug function; enable from properties file)
Download watch data for simulation (debug function)
Deleting individual files (debug function)
Save individual files (debug function)
Display of device log and device update log  (debug function)
Code improvements
Code to GitHub, converted to Maven
Version 0.3 (21-05-2017)
Automatic display of last imported track
Display route map when selecting GPX file for route upload
Distance indication in list of routes on device
List of history (tag-value list for the last 10 activities per type; next to history summary)
Erasing of all history & route data
Route directory added to the configuration file
Long routes compressed to max. 500 route points (like original TomTom MySports route planning)
Code improvements
Version 0.2 (05-2017)
Upload routes from GPX (track planning)
Erasing routes
List of routes on device (ID and name)
Show preference file
List files on the device (ID and size)
Set Device Name
Save file from the watch as binary file to disk
List history summary (last 10 activities per type)
Improved error handling
Activities sorting
Upload of ttbin files from disk (for conversion to GPX format)
Resolved small bugs
Version 0.1 (05-2017)
Show watch name
Show watch time (UTC)
Download of ttbin files
Google maps preview
Automatic saving of ttbin files in a similar structure as TomTom Mysports
Export to GPX format
Erasing the ttbin files from the watch
Upload GPS Quickfix data
Configuration via tomtomwatch.properties file
Known issues
Wrong icon, wrong picture: I-GotU iso. TomTom 🙂
Serial number of watch cannot be read due to a bug(?) in USB4Java lib
Support for Runner/Spark, Adventurer and Multisport, though only the Adventurer has been tested.
Watch time is displayed in UTC on the screen
Credits
The application is based on the excellent ttwatch application of Ryan Binns.
Libraries used:
Swing & AppFramework
Google Protobuf (for encoding routes to the TomTom format)
Disclaimer
I provide the software for free, including source code. The software may contain bugs. It might damage your TomTom GPS Watch. I won't take responsibility for any damage.